We salute all of those who served.   Several former residents of Penn Branch are interred at Arlington National Cemetery.   Here's a few facts about some our residents who served:
Chief Master Sargent Bob Strickland (1931-2008) USA 9 Reporter,  3 time local Emmy winner, 20 year career in the Air Force; Born Rupert Strickland in Rainbow City, Panama Canal. He co-founded with the late ABC broadcaster Max Robinson a mentoring program for aspiring minority journalists, which launched numerous broadcasters on their careers.   Spouse of Penn Branch resident Janet Strickland.   Janet Strickland is chair of the PBCCA hospitality committee.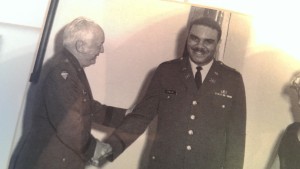 Lt. Colonel Buffington E. Falls. (1928-2014)  Spouse of Penn Branch resident Janet Falls.  Lt. Falls was a mentor an strong supporter of youth in DC public schools and youth in the Penn Branch Community.  He and his wife Nita (deceased) moved to Penn Branch in 1965, and purchased his home from the developer  After Nita's death, he later married Janet Falls is still active in the community.
Master Sargent Ludwig Seitz (1905-1988) – Spouse of Veronica Kosco Seitz (1910-1999); The Seitz family built their home on the 3600 block of Highwood in the 1940's.  Ms. Seitz was known for garden which was featured in several garden magazines.  She was a strong supportor of Saint Francis Xavier Catholic Church.  The Seitz family came from a strong military family which included nephew General Edward C. Meyer, former Chief of Staff US Army.