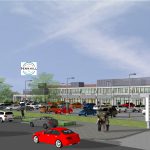 The following updates were provided by Anthony Startt, Jair Lynch Real Estate Partner Representative – The Shops at Penn Hill, for PBCCA's September 2018 General Body Meeting:
Zoning/Entitlements  
Zoning Commission (ZC) – "Proposed Action" on "custom zone" case was completed on 7/23
ZC referred the case to the National Capital Planning Commission (NCPC) for a required 30-day federal review period. NCPC filed a letter on August 30 that the project was exempt from federal review and/or had not impact on federal interest.
ZC is scheduled to take "Final Action" at their regular public meeting next Monday, Sept 17 at 6:30PM. As this is a public "meeting" (not "hearing") there is no public testimony. There are also a number of other cases on the agenda. No need for anyone from the neighborhood to attend (although of course you are welcome to).
Renovation Update
Phase 1 renovation of the existing building (Planet Fitness) is progressing and PF should be open in December. This phase includes waterproofing and re-paving of the sidewalks in front of the Penn Ave level retailers. Hence, the various temporary barriers on site now. The waterproofing work will be completed by the end of Sept (weather permitting).
Phase 2 renovation (exterior work, signage, lobby/elevator, roof screens, etc.) has commenced and will continue through January.
Please note that all current retailers are open for business during renovation. Please encourage your neighbors to continue to patronize these businesses during construction.
Parking Lot Re-development
We are meeting over the next few weeks with a number of potential "for sale" townhome/condominium builders/partners.
 Other items:
Once the ZC has taken final action, I will be reaching out to OSNF to setup our quarterly meeting and begin the process of applying to DDOT for the various traffic improvements.
Click here for more details on Jair Lynch Real Estate Partners and The Shops at Penn Hill
Visit The Shops at Penn Hill website for more information
Related News:
DCRA Zoning Commission Public Hearing Transcript July 23, 2018 –  3200 PENN AVE PJV, LLC – MAP: Case No. AMENDMENT @ SQUARE 5539, LOTS: 17-11, 835 AND 840
Anti-Development Groups are asking DC to down-zone swaths of the city on Monday
Zoning Change would make way for a Mixed-Use Project at Penn Branch Shopping Center
Upzoning not approved for Penn Branch Shopping Center – Yet
DCRA Zoning Commission Public Hearing Transcript Oct. 2, 2017 – 3200 PENN AVE PJV, LLC – Map : Case No. Amendment @ Square 5539, : 17-11Lots 835, 383, 839, and 840 
New Planet Fitness Lease kicks off rehab of Ward 7 Shopping Center
Planet Fitness Signs on to The Shops at Penn Hill