Penn Branch Citizens Civic Association Economic Development Roundtable: Pennsylvania Avenue SE East of the River (East End) "Our Time is Now"
On Tuesday, April 11 more than 100 Penn Branch and nearby residents gathered to hear from the Pennsylvania Avenue East of the River Committee, and key developers who own or are interested in purchasing property along the Pennsylvania Avenue, SE (East of the River/East End).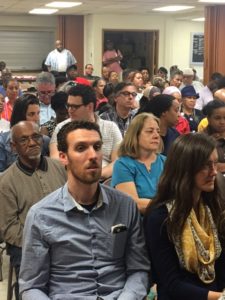 What is clear is that our community wants a walkable community, smart development, retail, restaurants and the sensible growth occuring in other parts of the city.
The audience engaged with the panel and shared their concerns,
Councilmember Vincent C. Gray also attended, and shared with attendees his vision and plans for the Ward 7 Economic Advisory Council.
Attendees, included Rob Tate, Jair Lynch Real Estate Partners; Bruce Finland, MED Developers; Stephen Downing, Pennsylvania Avenue East of the River Coalition; Lindsay Thompson, John Hopkins University DC City Lab; Deborah Jones, Ward7 Partnership; and, Reverend Kendrick Curry, Pennsylvania Avenue Baptist Church.  Attendees also included DC Office of Planning, neighboring community associations and other Pennsylvania Avenue Developers with an interest in Pennsylvania Avenue, SE East of the River (East End).
As promised, here's the link to our community overview/pitchbook book "Penn East" developed with the Johns Hopkins City Lab DC team as part of their capstone project.  Click here to view link
Also, attached is a link to the April 11th "Our Time is Now" Community meeting. Click here to view the video of the Economic Development Meeting "Our Time is Time"
While there has been some good news impacting Pennsylvania Avenue SE East of the River (East End), such as the recent purchase of the Penn Branch Shopping Center, the remodeling of Thai Orchards Kitchen, and the announcement of a Ward 7 Member Advisory Council to address Ward 7 Economic Development, the future remains uncertain, and the success of any venture needs to be an informed, unified community effort.
 A special thank you to the residents of Penn Branch; Hillcrest; Fort Dupont; Randle Highlands and the communities along Pennsylvania Avenue, SE (East of the River/East End)