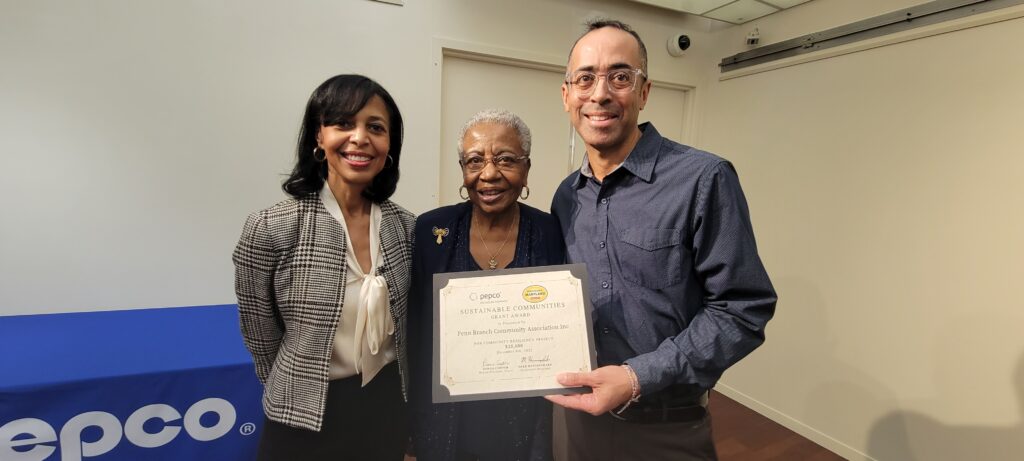 From the left: PEPCO Regional President Donna Cooper presents Sustainable Communities award to Penn Branch Public Works Chair Alberta Paul and former President Stan Benton.
DECEMBER 9, 2022
Penn Branch Community Association was awarded $25,000 to make improvements to 9/11 Memorial Park by Pepco and Sustainable Maryland. This funding is made available through Pepco's Sustainable Communities Grant program, which provides funding to support open space preservation, improvements to parks and recreation resources, environmental conservation, and innovative community resiliency projects.
Our community association was one of 11 local municipalities, recreational authorities, and nonprofits that were chosen to receive $125,000 in funds from Pepco and Sustainable Maryland to support open space and resiliency projects across the District of Columbia and Maryland.
"These are important and impactful projects that will have sustainable impacts on our communities.  We are so fortunate to have the opportunity to support such projects," said Donna Cooper, Pepco region president. "We are committed to helping our customers and communities achieve our collective climate goals, equitably and inclusively. These grants are one of the many ways we are working to foster a cleaner and safer environment for all."
Pepco launched the Sustainable Communities Grant program in 2020.