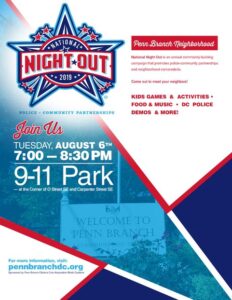 As our communities and nation continue to struggle with crime, guns, and racial inequity, Penn Branch neighbors gathered for National Night Out. A special thank you to Christopher Dyer DC Office of Victim Services and Justice Grants, MPDC Sixth District Durriyyah Habeebullah, Sixth District and 605 officers.
Also, thank you Councilmember Vincent C. Gray; ANC 7E01 and Ward 7 Committeewoman Veda Rasheed; ANC7B Chair and ANC 7B07 Representative, D.L. Humphrey, for coming out.
Thanks to Elson Nash, Stan Benton, Toni Reeves and others for your support and planning this event. And thank you to the many neighbors who came out to support National Night Out.
You can view more photos on our Facebook page, Twitter, and we will soon post to our website.  Stay tuned for details about the PBCCA Community Day on August 17th on the 3600 Block of Texas Avenue!
Sincerely, 
Shannon Thomas,
PBCCA President