You are cordially invited to the Penn Branch Hayride! It will take place on Saturday, Oct.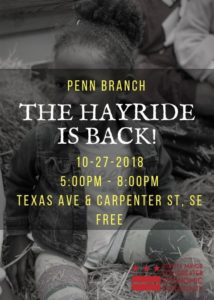 27th, from 5 pm-8 pm. Pickups will be provided every 15 minutes from the corner of Carpenter Street & Texas Avenue, SE. It's 20 people max per ride. Parents, feel free to allow the kiddos to wear their Halloween costumes. Neighbors come out, enjoy, give out candy, and fellowship.
Come and have a BOOrific time!
The event is being sponsored by the "Deputy Mayor for Greater Economic Opportunity" and hosted by Ayanna Smith.