March 13 Guest Speaker – DDOT Director, Jeff Marootian
March 13, 2018 @ 6:30 pm

-

8:45 pm

Free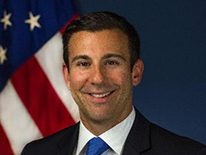 Our March 13 guest speaker Jeff Marootian was confirmed unanimously by the Council of the District of Columbia to serve as the Director of the District Department of Transportation (DDOT) on Tuesday, January 9, 2018. He was nominated by Mayor Muriel Bowser in October 2017.
Marootian joined DDOT from the United States Department of Transportation (USDOT) where he served as Assistant Secretary for Administration from 2015-2017 and White House Liaison from 2013-2015. During his time there, he advised Transportation Secretary Anthony Foxx and collaborated with heads of federal transportation regulatory agencies to promote President Barack Obama's transportation agenda. He served on the leadership team whose achievements include launching the nationwide Smart Cities Challenge; advocating for, and securing passage of the FAST Act; and creating economic opportunity through transit and mobility initiatives in communities across the country. Marootian oversaw the 55,000-employee agency's business and management operations, including workforce development and human resources, diversity, facilities, procurement, and security. He was also the Department's Chief Sustainability Officer and directed the implementation of President Obama's Executive Order on Climate Change and Sustainability and contributed to the Department's strategy on electric and autonomous vehicles.
Jeff Marootian began his career as a Capital City Fellow with the Government of the District of Columbia, holding legislative and community affairs roles with both the Metropolitan Police Department and DDOT. He served as DDOT's head of customer service from 2007-2011. He has been a District resident for more than 20 years, serving as an Advisory Neighborhood Commissioner from 2000-2002. He holds a Bachelor of Arts and Master of Public Administration from George Washington University, where he now is an adjunct professor.